In view of the current market prices and the fact i thought it was time i got my tools out i'm attempting my first guitar project which will not consist of ready made parts. Well, not entirely.
Yep, i'm going with our old friend... the Jag-Stang.
I ordered a slab of Mahogany for this influenced by the awesome tonerz of the Fender Toronado. It arrived today, its a nice piece...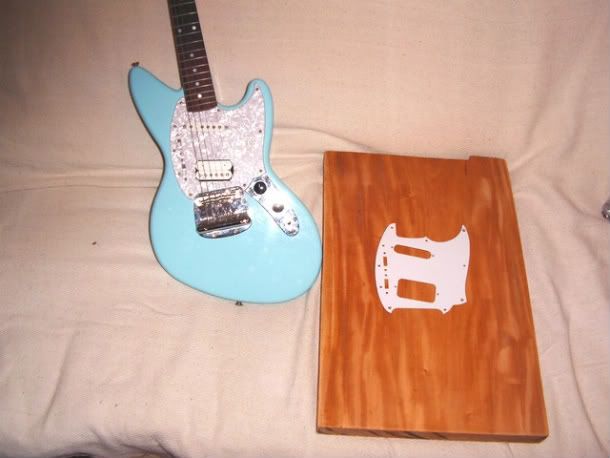 The other parts i have up to yet are a Bronco neck that i fitted a bone nut on and erm... Grovers. The SP, switches, pups, etc.
The only undecided area of this project concerning hardware is the bridge/tremolo. A Jaguar Synchronised Trem would be by far the easiest to fit, but i'm really into the Floyds at the moment and i just scored one fo free off a forum member. But they are notoriously a bitch to fit.
So i'm going to see how i feel on that when i get to it.
As for finish, i'd hoped to use a clear coat of Danish Oil to seal and emphasize the Mahoganys grain, then finish with BriWax and .0000 wire wool. This is a common high end Joinery/furniture method that was adopted by Patrick Eggle guitars, and i tried it on my old Jap Flying V with excellent results.
Any comments and criticism welcome, and hopefully we can all have a flame war at the end.