Long time lurker, just joined. Here goes my first thread! I'm going to try to make my intro quick...
I never would have dreamed of ACTUALLY building a guitar just 3 months ago, but I found another forum that had a bunch of d00ds making bodies from 2x4's and old shelves, and I was inspired beyond belief. I had been saving for a Jazzmaster, and instead ran out and got a router. I made a template using scaled up images I downloaded from Fender's website, and checked it against a pickguard I had purchased on eBay. My first blank was a pair of poplar boards from Lowes, glued together side by side. The end result was a decent guitar from $16 worth of wood. When somebody offered me $80 for it, I thought "Why not? I'll just make another. I have the tools now." And so started a chain of events that led to setting up a full blown wood shop and having over 20 guitar bodies come out of a little garage in Corona.
After I crafted a bunch of "standard" bodies, I decided to merge the guitars from my two favorite bands. Kurdt's Jag Stang, with Thurston's Jazzmaster. Here was the mock up:
The template for the body was made by scaling up images of a Jag Stang, and comparing the blown up image to a pickguard I got on eBay. When I was confident in it's accuracy, I traced it onto my body blank and got to cutting with a jig saw.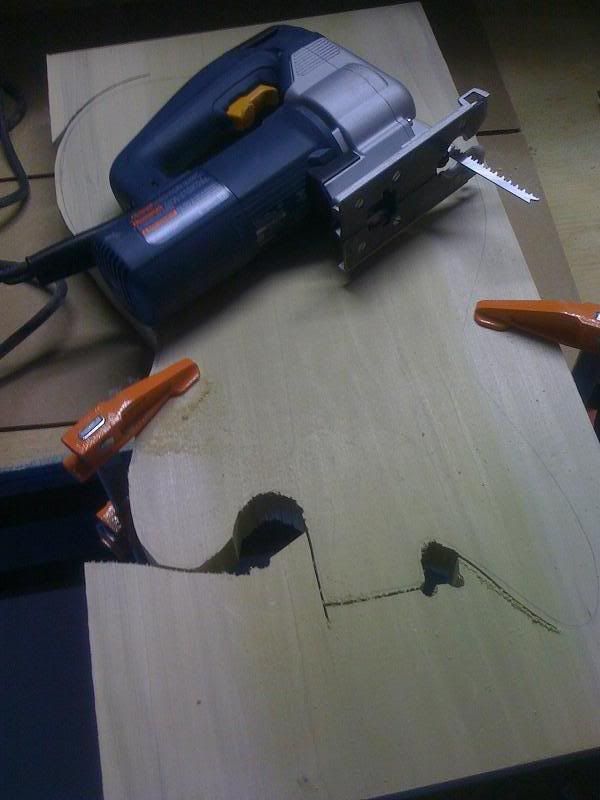 The edges of the body were sanded smooth using an oscillating spindle sander, and the cavities were hogged out using a forstner bit on my drill press.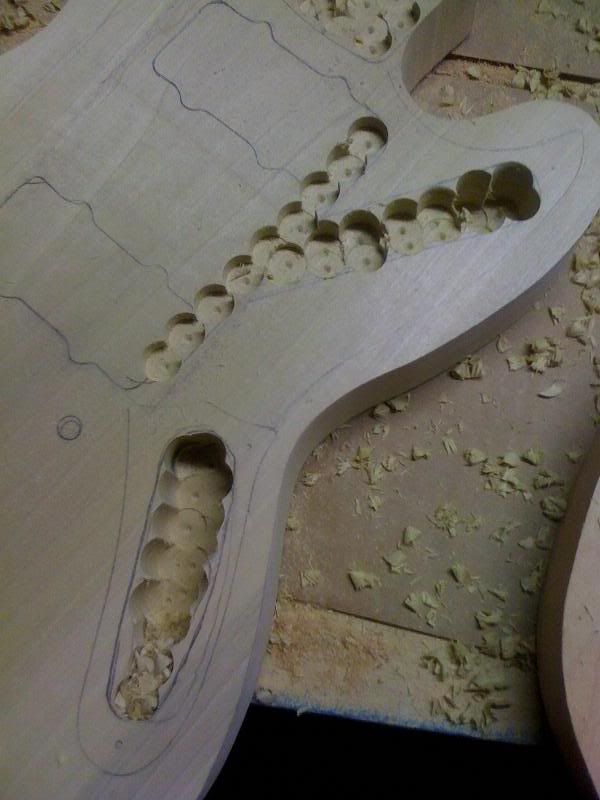 I made up some templates for the cavities out of 1/2" MDF using a Jazzmaster pickguard, and the jig saw (with a tiny blade). Then I used the template with my router to clean up the cavities.
Let's see... what's next...
Ah, I hit the corners of the body with a roundover bit on the router. The same day, I got a bunch of my parts in the mail, and I was too excited to try everything. I traced an Allparts mustang pickguard onto 1/2" MDF and cut it out to make a pickguard template (like Stewmac.com suggests) and cut out a test-fit pickguard using some really cheap acrylic.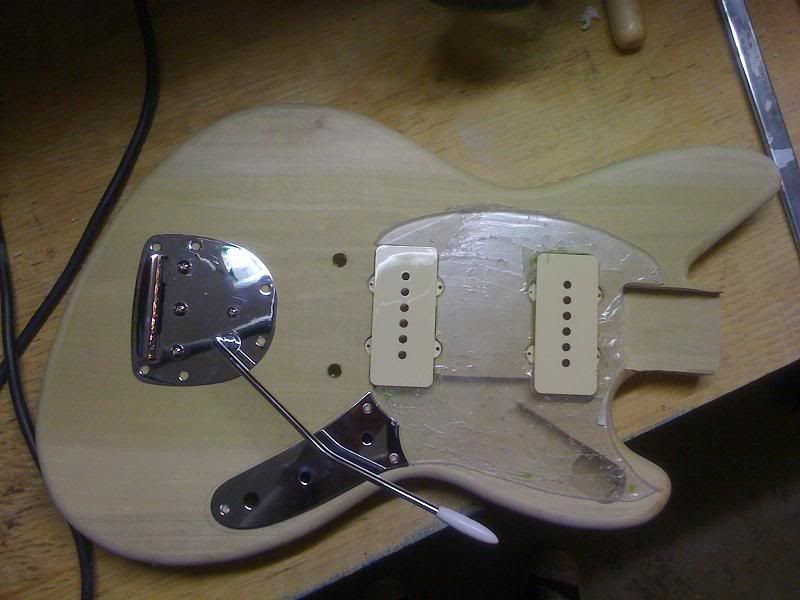 I have been digging some old school woodworking lately; hand tools and what not... I thought it would be cool to contour the heel, so I had at it with a No.5 Jack plane, a spokeshave, a stack of sandpaper, and a series of files... I also used some of those tools to shape a giant belly contour. This will be a PLAYER, so I want it to be as comfy as possible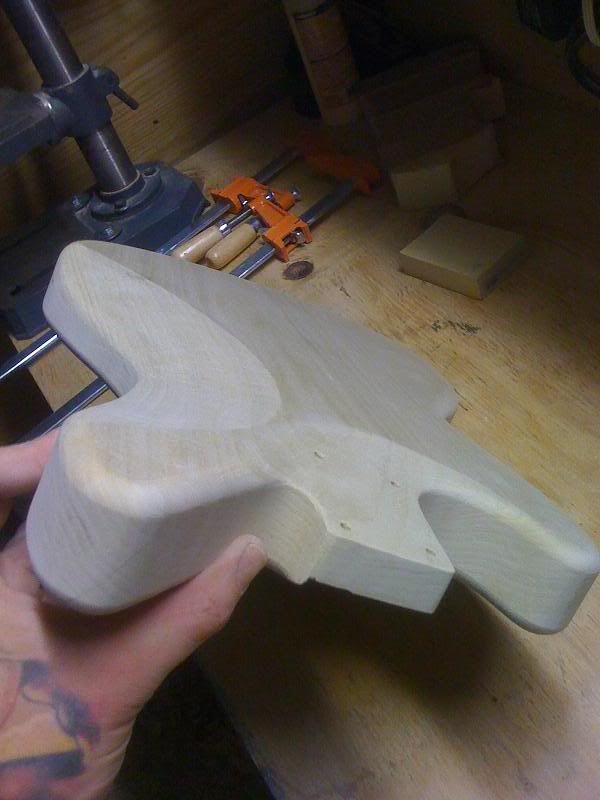 After the thing was sanded all pretty, I used about a whole can of Deft sanding sealer to get that smooth, glassy surface...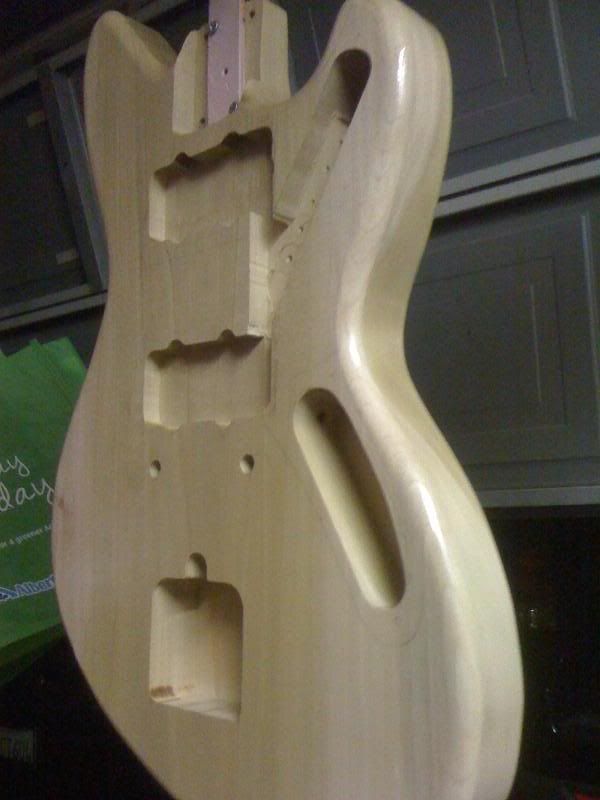 http://i137.photobuc...ir/IMG_0822.jpg
The pickguard was made with a thicker, nicer "Lexan" plexi-glass. It cut and worked more like a hardened rubber than a brittle plastic. The cut pickguard felt more sturdy than a "real" pickguard, believe it or not.
http://i137.photobuc...ir/IMG_0817.jpg
http://i137.photobuc...ir/IMG_0819.jpg
http://i137.photobuc...ir/IMG_0820.jpg
http://i137.photobuc...ir/IMG_0821.jpg
I like to make my pickguards from this clear material, and paint them from behind (like the pickguardian does). I hit this one with a pearl clear coat from behind.
http://i137.photobuc...ir/IMG_0827.jpg
Then I hit it with some white.
http://i137.photobuc...ir/IMG_0839.jpg
The body was primered white and sanded a bit with 600 grit.
http://i137.photobuc...ir/IMG_0833.jpg
And it was hit with what felt like a million THIN coats of a red that I'd say is pretty close to Fiesta...
http://i137.photobuc...ir/IMG_0834.jpg
http://i137.photobuc...ir/IMG_0840.jpg
http://i137.photobuc...ir/IMG_0837.jpg
And just today I was able to try on some of the parts for a preview of what is to come! Still waiting for the neck, bridge, and pickups to come in...
http://i137.photobuc...ir/IMG_0842.jpg
I'll keep you guys updated